10-YEAR IMPACT REPORT
2008-2017
2017 marks our tenth year operating in Uganda. This provides us with a good opportunity to reflect on what we achieved, and what we have learnt. We hope you enjoy reading about the results as much as we have enjoyed helping to deliver them!
Recreation
Uganda Creates has delivered a range of recreational activities for the last 10 years through provision of our three Community Resource Centres in Bajjo, Gobero and Kayunga - with over 73,000 individual attendances across our recreational programmes
Our Recreational output in numbers:
42,564
individual attendances ACROSS ALL sports
30,547
attendances to one of our three Resource Centres
9,890
attendances (32%) were to read or loan a book
774
Resource Centre members ENGAGED in 2016
670
average users of our activities every month
19
community events or sports tournaments
% Breakdown of Resource Centre Attendances
32% of attendances to one of our Resource Centres over the last 10 years (not including sports attendances) has been to read or loan a book. That equates to a total of 9,890 opportunities for someone to read who wouldn't have had the opportunity.
% Breakdown of Resource Centre Members Gender
At the end of 2016, 62% of our 774 Resource Centre members were male, with 38% female. We have seen this division vary over the last ten years, but the gap has increased in the last two years as we added our third project in Kayunga.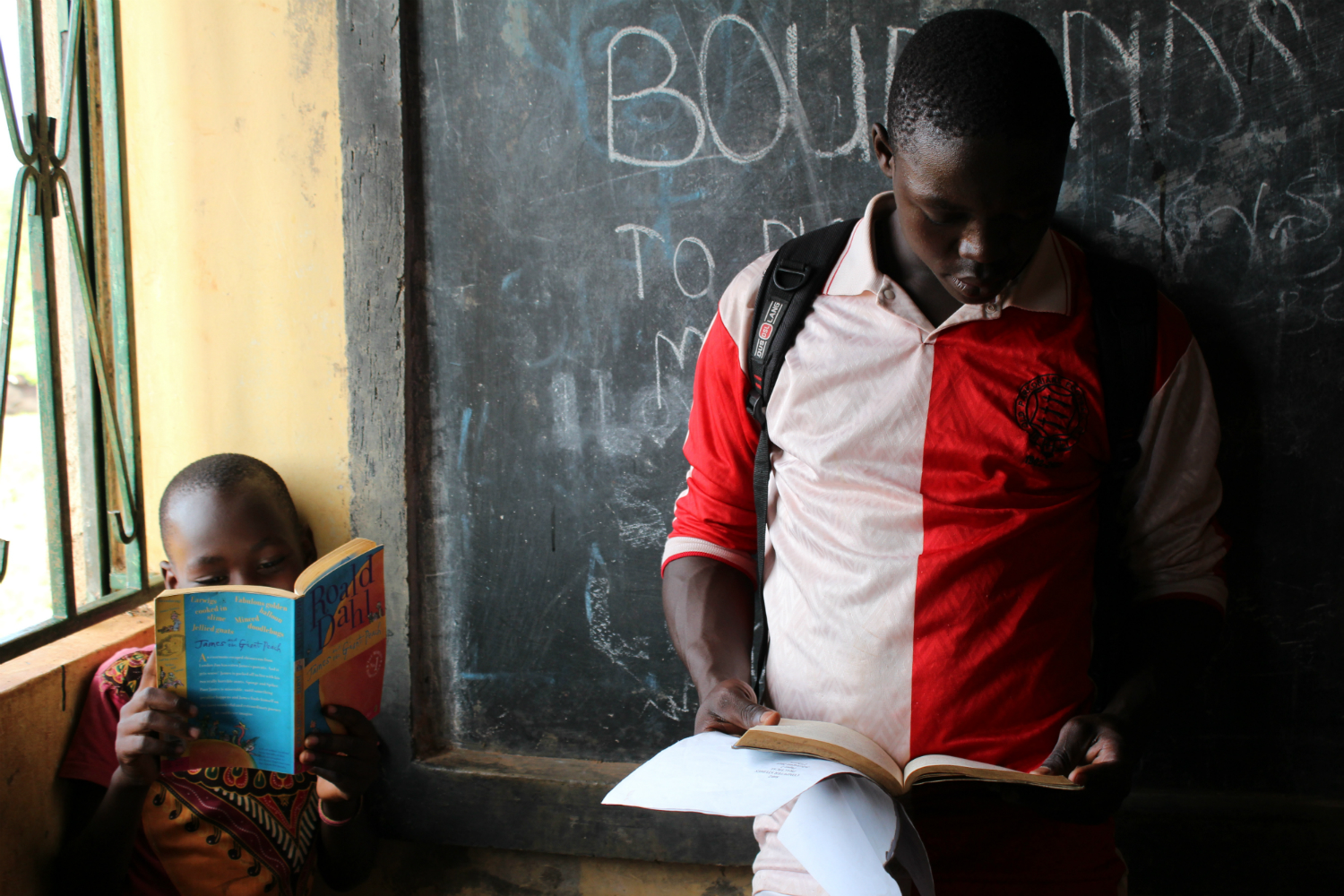 Female participation
Female participation in recreational activities has always been a focus of ours, due to the typical restraints we have witnessed on young girls' time outside of school hours. From the very start we encountered that the girls were given less opportunity to come and participate in activities due to the number of tasks they had to complete at home.
We have worked hard in all our projects to promote opportunities to the female members of the community and ensure that the Resource Centres were not male dominated. We have typically had a gender split of 55% male to 45% female, up until the last couple of years; where have found the new projects added into our portfolio have been more male concentrated.
While it may not be possible to achieve equal gender splits in our acticities due to their self-selection nature, we will ensure we address this imbalance over the next couple of years with positive action to ensure as many young females are accessing our recreational activities as males.
We are looking at some key changes to the way we run our recreational activities over the next few years.
PROJECT Location
We are looking to bring our Resource Centres geographically closer so we do not over-stretch ourselves; and so we can provide cross-project support between communities more easily. We will be focussing more in the Luwero District over the next couple of years, looking to set-up two new Resource Centres.
RESOURCE CENTRE Activities
We have always used sports activities as a way to engage young people, and then direct them on to other activities, programmes and training. We want to still do this, but we are looking to move our Resource Centres away from the partnerships with schools and have more outreach based sports activities, with the centres themselves focussed on arts, reading and computer training.
Our educational outputs in numbers:
4,159
attendees on our programmes over the last 10 years
462
programme participants on average each year
147
programmes delivered over 10 years
50%
of all programme attendees identify as female
28
events and sports tournaments staged
16
programmes delivered on average each year
Average Improvements (%) in Creative Studies Outcomes
The outcome figures above are taken from the last five year's results. They have been collated from changes in participant's scores in a pre- to post-course survey.
The greatest improvements were seen in the area of Community Values/My Community, with an average 22% improvement post course. All the other evaluation areas showed similar improvements of 13-14%. We have observed significantly greater improvements in male participants than female participants over the first fours, a trend we have been trying to reverse. We are pleased to say that in 2016, we saw a significant improvement in the outcomes in female participants, which outscored the male participants in all fields.
Average Improvements (%) in WhizzKids United Outcomes
The outcome figures above are taken from the last five year's results. They have been collated from changes in participant's scores in a pre- to post-course survey.
Strong improvements have been observed in the areas of Knowledge of Transmission, Confidence and Control, and Future Planning, averaging between 14 and 15%. Less dramatic improvements were illustrated in the other areas of Perceptions of HIV/AIDS and Gender Inequality. For the number of participants we pass through the programme each year, this represents a consistent improvement seen in participants, and importantly, similar improvements have been shown year after year in female participants as much as their male counterparts.
Creative Studies
Creative Studies is an original programme developed by Uganda Creates with the aim to provide a new way of educating young people in Uganda about themselves, their communities and the world around them.
The programme follows the school term times, where we work with selected school pupils once a week for the year. The programme was designed to provide an alternative learning style to children, in a different environment to what they are used to. It is a personal development programme, but also demonstrates significant improvements in improving children's language skills and behaviour.
2016 saw our best results yet on the programme, achieving a 26% improvement in participants completing the programme from pre- to post-course. While previous years saw the female participants being out-scored by their male counterparts, this year saw the first team we saw greater improvements from female participants across the board, rewarding our efforts to more effectively engage female participants into the learning.
The education component of our work is the one area we need to build upon and expand to all our projects, in order to fulfil our Recreation, Education, Training model.
Our programmes have typically been delivered around our first project site (in Bombo), but in 2017 and beyond we want to see our programmes extending to other areas, particularly as we establish new projects.
One potential model to do this is to run them as outreach programmes from a central hub, thereby maximising our staff resource. This and other options will be considered over the next year as we fully implement our model across our projects
The other exciting thing we are keen to develop is an employability / business skills programme. We want to provide a bridge between our educational work and our vocational training that upskills a larger number of young people from the communities in which we work and provides them with the valuable skills they will need to find a job and support themselves and their families. Watch this space!
Training
Uganda Creates has supported 24 of our community members to complete a vocational training scholarship in their desired field to support them in to work. The scheme has been active since 2013 and is now in operation across all our project sites
Our training impact in numbers:
92%
of vocational training recipients are now employed
63%
of female recipients are single parents or have a child
44%
of Vocational training recipients are female
33%
have lost a parent or are from single parent families
24
vocational training scholarships have been awarded
6
years supporting vocational scholarships
Kato Godfrey, Bajjo, 2015 VTS
Kato started out as one of the first Resource Centre members in Bajjo back in 2008. He was studying in Primary School at the time, but was only able to complete up to Secondary 2 due to a lack of funds. Kato comes from a single-parent family, where his mother works as a local farmer in Bajjo supporting Kato and his brothers and sisters.
Thanks to the sponsorship he received from UGANDA CREATES, Kato has gone on to become a trainee at the Green Label Garage in Kampala following his successful scholarship in Motor Vehicle Mechanics at Bbowa Community Polytechnic. We are very proud of Kato for what he has achieved in his training. It would have been very easy for him to stay in Bajjo and continue digging with his family. But he has shown great ambition to get where he has today and we hope to continue to support him in his dreams of becoming an engineer.
LEON NAMAGANDA, GOBERO, 2016 VTS
Leon is from Nampunge village (a neighbouring village to Gobero). She is 20 years old and has been able to complete Senior Four. She is the second child of five children and she stays with her mother who struggles toprovide for the family. Leon's family had previously stayed in Gobero community. However, her family was affected by the ongoing land disputes. They lost their land and thus they left and settled with in the neighbouring community.
Leon has a long history of participating in the UGANDA CREATES activities in her previous community, and so we were delighted she applied for one of our scholarships places in 2016. She was successful in her application and completed a one year course in tailoring. Leon completed her training and is now working as a trainee tailor in a local tailoring company where she is continuing to learn her trade for the future.
MAGGIE NABAGEREKA, BAJJO, 2017 VTS
Maggie is from Bajjo Community. She is 27 years and a mother of four children. Maggie got married as soon as she completed Senior Four at Secondary School and has been married for ten years now. As one of the 2017 UGANDA CREATESvocational scheme beneficiaries, Maggie says she has gone through a lot to manage thehome especially buy food, medication and school fees and all this is constrained by the low income in the family and the rising prices of food and other goods.
Maggie's determination to succeed is truly amazing. She made the difficult decision to move away from her family for a year to re-train under the support of her grandmother, and although she is missing her family she is starting to see the rewards. Maggie enrolled at St Padre Pio Integrated Training School for welding and metal fabrication, with a desire to be able to provide for her family and create a better future.
We have spent a total of £53,391 over the last 9 years, with an average spend of £6,000 a year
Percentage Breakdown of Spending (2008-2017)
The highest portion of our expenditure over the last 10 years has been on our central staff and office costs in Uganda (31%). This covers our principle staff in Uganda, as well as the operational costs of the organisation.
Over the last four years, the other three components of our expenditure (Recreation, Education, Training) account for similar portions of the total expenditure, between 20 and 25% respectively. When we look at this over the ten year picture however, we see a reduced expenditure on training as this area of our work only originated half way through our existence. Expenditure in the UK is our lowest share, with only 6% of all costs over the last ten years spent in the UK. This amounts to £2,480 in total, or £248 a year, over 50% of which is taken up by the cost of necessary bank transfers.
We have raised a total of £71,818 over the last 9 years, with an average income of £7,980 a year
Percentage Breakdown of Income (2008-2017)
The majority of our income (60%) over the last ten years has come from our own development and delivery of large and small fundraising events. This has included events such as the 3-Peaks Challenge; the Lands End to John O'Groats Cycle Ride; and the Olympic Challenge. We have also done fairly well at engaging regular givers, that make up 22% of our income stream. The one area where we have not performed well, and indeed have not pursued is income from trusts and foundations.
From 2017 we will be changing our strategy to increase our income from grant giving bodies, as well as encouraging a more stable income stream from regular donations; thereby reducing our dependence on organising large fundraising events.
Creating opportunities for a positive future.